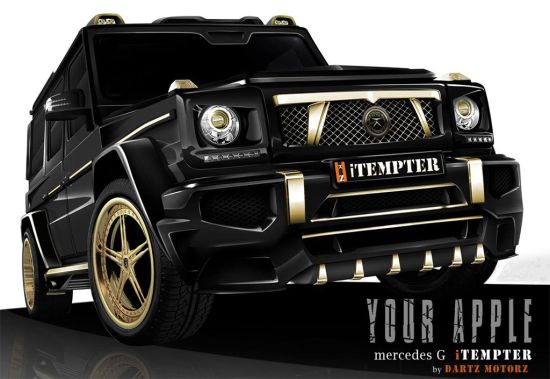 After market specialist Dartz is known for its extreme conversions, sometimes based on a theme. Like all the aftermarket enthusiasts might not be aware that last year was the year of dragon as per Chinese calendar, while next will be a year of snake so expect some vehicle upgrades based on this theme. However, Dartz this time has come up their new iTempter program for the Mercedes G Class which adds some gold parts at the exterior and some updates in the interior too.
Designed by Dartz designer Marius Dumitrascu, iTempter program adds gold plated 24" bullet design alloy wheels and various front end trim parts. As far as interior is concerned, Dartz Mercedes G Class comes with quilted leather headliner and wood trims for various parts. Now you might be thinking why such a name – iTempter but it isn't without a very good reason because 'i' in iTempter stands for three iPads that are incorporated in the roof of the car.
Additionally, the center part includes a star sky added into the roof of the car. No word from Dartz if there will be some performance and power upgrades made to the Mercedes G Class. All we are told is that 12 limited gold editions will be made in total along with 24 green editions and 24 orange editions and no information is made about its starting price either.
Via: Autoblog.nl