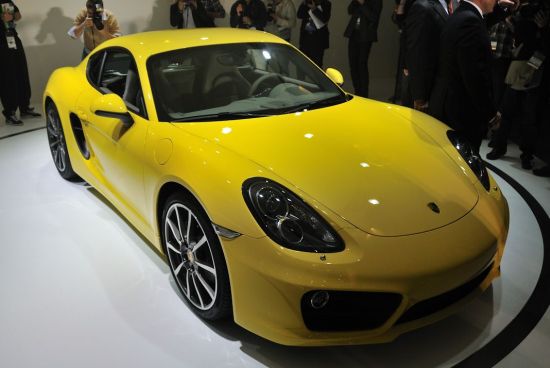 Finally, the wait for the Porsche fans is over as the automaker has revealed an all new Cayman at the 2012 LA Auto Show. Flaunting sleek body, luxurious interior and performance that outshines the previous generation 911, third-generation Cayman coupe can get the attention of potential 911 customers with its wide yet low body.
Powering the 2014 Porsche Cayman sports car is a mid mounted 2.7-liter flat six engine that develops 275hp and enables it to get from 0-62mph in 5.4 seconds before hitting a top speed of 165mph. Whereas the Cayman S is equipped with 3.4L engine with an output of 325 hp. Both models come with six-speed manual transmission as standard and PDK 7-speed dual-clutch automatic transmission as optional. The Cayman S sprints from 0-60mph in 4.7 seconds, en route to its top speed of 176 mph. NEDC Fuel economy ratings for Cayman and S variants are at 7.7 L/100 and 8.0 L/100 km with PDK respectively.
Sharing its platform with new 2013 Boxster, 2014 Porsche Cayman is more powerful, faster, longer, lower yet more fuel efficient than the outgoing model. However, the unique fog lights and lightweight aluminum and steel body distinguish it from Boxster coupe it is based on. Other than the spectacular figures, the third generation Cayman comes with Adaptive cruise control, Burmester audio system as well as keyless Entry and Drive system.
The interiors are carried over from its corporate sibling that uses high end premium material. At 2012 LA Auto Show, third generation Porsche Cayman will be showcased alongside the new 911, Carrera 4 and Carrera 4S, as well as the Panamera Platinum Edition. The 2014 Porsche Cayman will hit the European dealerships in the month of March next year with its price starting from €51,385 for the Cayman and €64,118 for the Cayman S, including 19% VAT. It will reach US shores in spring next year with starting price of $52,600 and $63,800 for both versions respectively.
Source: Porsche