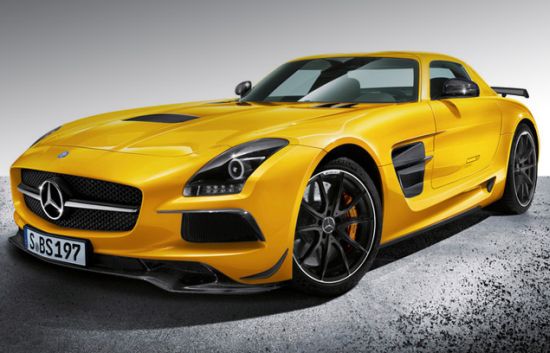 The much awaited and talked about Mercedes-Benz SLS AMG Black Series finally debuts at the ongoing 2012 LA Auto Show. 2014 SLS AMG Black Series is the fifth model – and possibly the wildest – from the Mercedes AMG. The bad boy from Mercedes is equipped with 6.3-liter V8 engine and is the real embodiment of what engineers can do if given the free rein.
Well yes, under the hood is 6.3-liter V8 engine but the folks at AMG has worked extra on the engine to extract 40 horses more to recently introduced SLS AMG GT and even 59hp more than the standard SLS AMG. The engine now develops a total of 622 horses but the torque saw the fall of 11 lb-ft in comparison to both gullwing variants which is now at 468lb ft.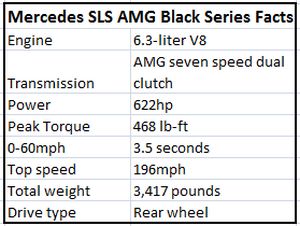 Engine is mated to a seven speed dual clutch transmission that conduit power to the rear wheels and enables the beast to sprint from a naught to 60mph in 3.5 seconds before it reaches a top speed of 196mph. Mercedes uses improved ceramic brakes to bring it to a halt, electronically controlled rear differential and widened tracks to improve the overall handling of the car.
On the other hand, the weight of the car is also reduced with the extensive use of carbon fiber in making its parts like big front splitter, side skirts, a fixed rear wing, massive diffuser and wider tracks at front and rear which help shed 154 pounds of weight in comparison to SLS AMG GT. the other measures to reduce the weight include new lithium-ion battery pack and titanium exhaust system.
The interior of the car gets Alcantara leather finish with matching stitching. Design of the Mercedes-Benz SLS AMG Black Series inspired by the SLS AMG GT3 race car and it is expected to hit the US market in the summer of 2013. There is no word on the pricing of the car as yet.
Source: Mercedes