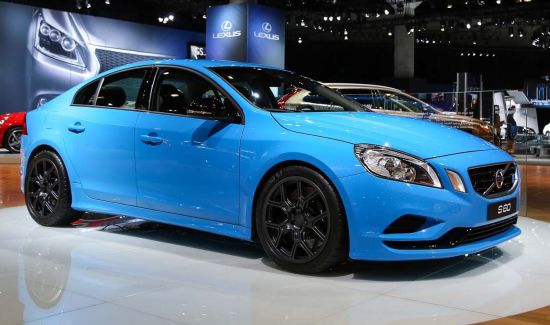 Volvo Official Motorsports, together with its performance partner, Polestar, has presented Volvo S60 Polestar Performance concept at 2012 LA Auto Show. The performance concept car is developed to provide those who always want to have fun on the go with exhilarating power.
Under the hood is a 3.0-liter Volvo T6 inline six engine capable of delivering 508 hp and a peak torque of 575Nm. Engine is connected with close-ratio six-speed manual gearbox that sends power to all the wheels.  Volvo S60 Polestar Performance takes 3.7 seconds to reach from 0-60mph, before it touches its top speed of 186mph.
The powerplant of Volvo S60 Polestar Performance has a modified cylinder head and combustion chambers, a modified inlet manifold and air intake, specially build conrods, a Garret 3171 turbo and 3.5 inch stainless steel exhaust system from Ferrita. The car weighs 1,640kg with its aerodynamics including carbon fiber diffuser, lowered front splitter and large spoiler to keep the chances of lift at high speeds at the minimum.
The interior of the Volvo S60 Polestar Performance concept gets Polestar designed seats, Alcantara leather finish to all functional areas including steering wheel, gear leaver top and seats to ensure maximum grip and the center console is placed little low for increased lever ergonomics. The concept, as per Volvo, is built for a specific client who paid $300,000 upward for the pleasure to own it.
Source: Volvo