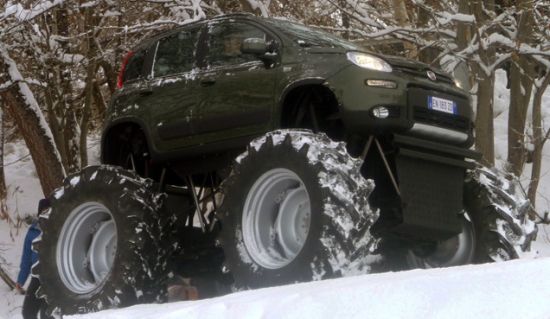 In a world where passion for autos rules, there is no dearth of freaks who go after anything and everything. Monster trucks are one of the things that sometimes take things from beautiful to wacky. However, such machines are usually built on big powerhouses, jeeps or other vehicles with too many ponies under the hood.
The conversion of this soft roading Panda hatchback from Fiat is quite unusual. Also, considering the addition of big wheels, we assume that its drivetrain might surely has been updated. The reason being, 900cc two cylinder or 1.3-liter diesel powerplant that Panda 4×4 comes equipped with is inapt to make it roll.
Unfortunately, there isn't much information available as to what changes were made to make it fully functional with such a conversion, especially to power the monster wheels and tires. All we know is it's cool and we would really like you people to know about it. In case, we come across more info on the same, we will surely get back to you.