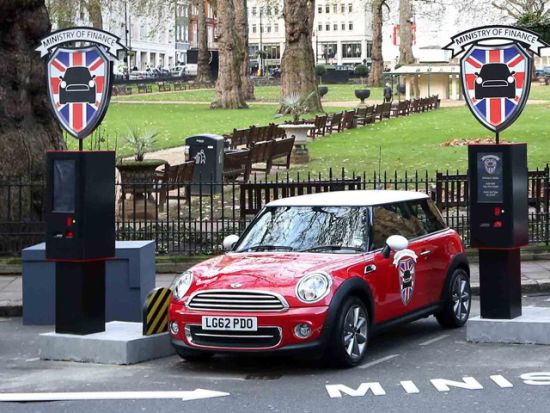 The major cities across the world are full of car rentals, offering you services depending on cars you hire. The higher end car you opt for, more you need to pay. However, Londoners have a bright chance to drive a Mini cooper for less than the price of a cup of tea. Well, yes you read it right. Mini has launched a car rental program in the capital city, offering the dwellers a chance to sit behind the wheel of a Mini Cooper for a meager amount of £0.26 an hour.
There is no need to sign up any document as such and all you need to do is to reach the Mini Fun Hire Service, with its docking station located at the West End's lively Berkley square. Just insert 26 of English pennies into the machine and get ready for a drive behind Mini Cooper's steering wheel. The hourly rate for driving Mini is based on Cooper's £189 monthly finance package.
The Possible customers will be accompanied by a Mini Staff Member to drive you back once your duration of one hour is over. The initiative package will be valid until December 6 and will end on 6 PM sharp. A drive around the city in a Mini Cooper is aimed at providing the much needed pre Christmas fun to Londoners as well as to note how the dwellers in the capital city could do if provided with a chance to enjoy a little bit of fun in their lives.