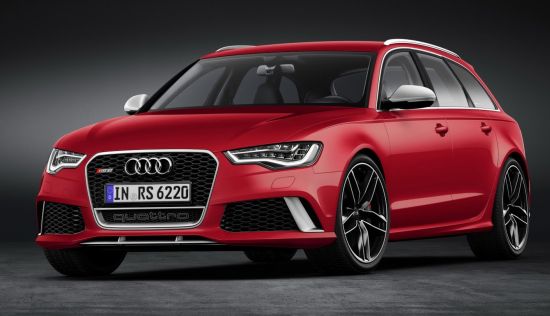 Audi left nothing to imagination after it officially revealed the images and complete information of RS6 Avant station wagon immediately after the first images of the RS6 started appearing on the web. Audi RS6 Avant is built by its independent Quattro GmbH division and will hit the UK dealership in July next year.

The new Audi RS6 is equipped with a new twin turbocharged 4.0-litre V8 TFSI engine, replacing the 571hp 5.0-liter bi-turbo V10 that previous RS6's has under the hood. Engine is capable of generating 552hp and a 516 lb-ft of peak torque. V8 powerplant is mated to ZF eight-speed automatic transmission and Audi's Quattro permanent all wheel drive system with torque vectoring. To bring it to a halt, Audi placed lighter brakes consisting of 390mm front discs fastened with six-piston calipers, whereas 420mm carbon-ceramic discs come as optional.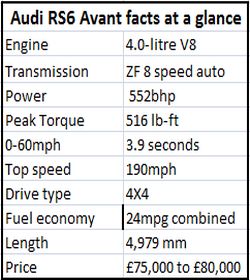 As far as top speed is concerned, Audi fans will get three choices wherein the base model will come with a top speed limited at 155mph, the optional Dynamic package will allow the RS6 estate to hit 174mph and Dynamic Plus package will take the top speed all the way to 190mph. A sprint from 0-62mph takes merely 3.9 seconds which is 0.5 second faster than the previous RS6, 0.4 second faster than BMW M5 and 0.2 second quicker than Porsche 911. Meanwhile, it's slightly slower than Ferrari California that does the same feat in 3.8 seconds and Lamborghini Gallardo LP560-4 which reaches the same milestone in 3.7 seconds.
Weighing approximately 100kg lighter than the previous model even when it's longer, new RS6 owes to 20% aluminum body structure, heavily tweaked chassis and specially tuned air suspension. This not only helps improve the handling in new estate wagon but also claim 40% more fuel economy than outgoing V10 model. The combined fuel economy is clamed at 24mpg (US) as it burns 9.8 liters for 100 kilometers and emits 229g of CO2 per kilometer.
Some of the other prominent features include two twin-turbochargers sitting on V shaped engine alongside the intercooler, a stop-start system and fuel saving Cylinder on Demand (COD) technology that enables the use of four out of eight cylinders when car is developing 25 to 40 percent of maximum torque. A luggage space of up to 1,680 liters together with all the comfort and luxury the customer can think of completes the whole package.
New Audi RS6 comes with 20-inch forged wheels as standard, whereas the 21-inch cast wheels are also offered as optional. The tweaks are made inside too as RS6 Avant is offered with two sportily molded rear seats as standard and a three-person bench seat as optional. We don't exactly know as to how much will it cost but a base price of £77,000 is expected. It' not confirmed at this moment of time if will come to US either.