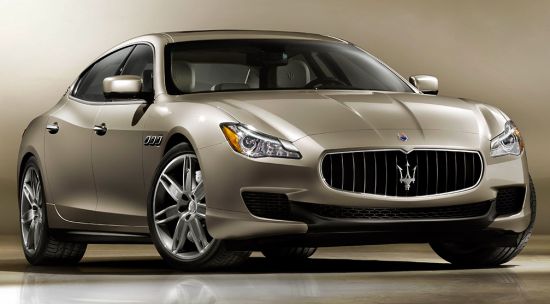 To amuse all its fans, Maserati revealed the images and details of new generation 2013 Quattroporte well ahead of its debut at 2013 Detroit auto show which is scheduled to take place next month. The latest Maserati Quattroporte will be longer, wider yet weighs less than its predecessor which means it won't consume extra fuel in comparison to its predecessor.
The new generation Quattroporte will be offered with two engine options: entry level twin-turbo direct-injection 3.0-liter engine V6 and 3.8-liter twin-turbo V8. The former is rated at 404 hp and 406 lb-ft of torque and is good enough to get from 0-60mph in 5.1 seconds and a top speed of 177mph. However, for those who are looking for a more powerful luxury saloon, Maserati offers you 3.8-liter twin-turbo V8 capable of generating 523 hp and a peak torque of 479 lb-ft. It makes the Quattroporte sprint from 0-60mph in 4.7 seconds before it reaches the top speed of 191 mph.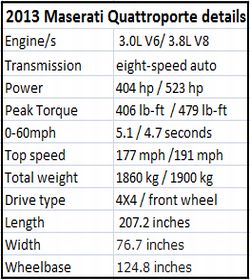 Both the engines are sourced from Ferrari and are connected with an eight-speed automatic transmission that replaces previous six-speed gearbox and is lighter too. The gearbox will transfer power to the rear wheels in the V8 powered variant while the V6 engine will be made available, for the first time, with AWD system too. In the normal driving conditions, the all wheel drive system will conduit power to the rear wheels but can transfer half of it to the front wheels if needed.
Measuring 207.2 inches long, 76.7 inches wide, 2013 Maserati Quattroporte is 6.4 inches, and 2.5 inches wider than its predecessor. With a wheelbase of 124.8 inches, Quattroporte offers more space for passengers and luggage. The V6 variant weighs about 1860kg and its V8 sibling around 1900kg which is approximately 100kg less than the current model. This is made possible with the extensive use of aluminum in its body parts and chassis.
The new Quattroporte also features newly designed Skyhook suspension with control arms for front, adjustable dampers and a multilink rear suspension as well as TRW developed speed sensitive hydraulic steering system. Prics for 2013 Maserati Quattroporte is expected to start from 110,000 euros to € 146.000 in Germany, whereas the US is expected to have an initial value close to $ 100,000. However, the exact price tags for both models are expected to come with its official debut at 2013 NAIAS in Detroit.