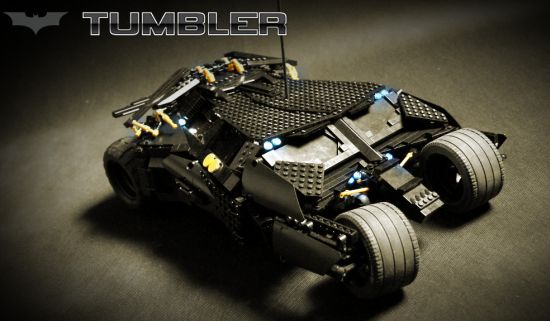 The famous Batman character from Dark Knight Movies and cars used in the film are always source of inspiration for the creative artists. We have seen the full scale, scaled, and Lego versions of the cars for a long. Here is a motorized remote controlled Lego scaled version of the Tumbler which will even make Batman jealous. The reason being, it is made to the details and packs all the features from the movie going machine.
Now you might surely be interested to know what is so impressive about this Lego Batman Tumbler. It is built with meticulous attention to the details and features specifically engineered drivetrain consisting of front suspension and the steering mechanism, similar to vehicle created for Dark Knight Movies, which makes it function like a real deal. The Lego Tumbler works in a live axle setup and a spinning thruster that has blue LEDs.
Created by Paweł "Sariel" Kmiec over the period of one month, the RC Lego Tumbler is equipped with canons upfront that fire projectiles for the added effect. The suspension of the Lego model, as per the creator, has been made so flexible that RC Tumbler will start tearing apart over time by dropping plates and many components as it maneuvers.
Measuring 56 studs in length, 34 studs in width and 19 studs in height, the RC Lego Tumbler Batmobile that weighs 2.344 kg is a wonderful piece of art and will make the art as well as Batman movie lovers drool over this amazing vehicle like kids.