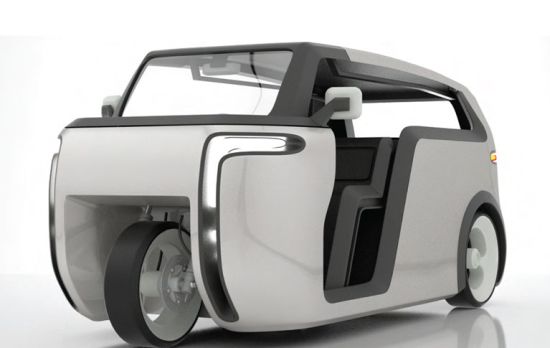 With the rising concerns of global warming and depleting sources of energy, it is but obvious that automakers and designers from all over the globe are striving hard to build eco friendly vehicles to replace the current fuel burners. The concept vehicles s are imagined as an alternative for gas powered cars that are generally used for daily or long commutes but sans any or least CO2 emission.
Among the long list of designers, here is one from Metro Manila, Philippines who comes with a design of a futuristic vehicle which is not only impressive but runs on electric power and lightweight material proposed to build it makes it a perfect eco friendly ride for the future roads.
The brainchild of Joseph David Gutierrez, the EVE – the next generation electric vehicle concept promotes the sustainable lifestyle in future. The concept three-wheeled vehicle is imagined with lightweight materials for its make and will provide the enhanced ergonomics and safety to the occupants with tough yet modest aesthetics.
Featuring the efficient yet sustainable technologies and material including plant fiber composites resins to make body panels, the EVE Electric vehicle concept also features energy saving technology like use of LED headlamps, instead of traditional one, for saving more energy on the go.
The vehicle is propelled by a 4kw to 6kw motor with voltage capacity of 60V-75V enabling it to run up to 60 km on a single charge with a top speed of 40km/h. With a seating capacity for six passengers, the EVE electric vehicle has a wheelbase of 2200mm, rear track width of 1300mm and Styrdy Leaf or Coil smoothed riding suspension.
Thanks for the info, Joseph David Gutierrez!