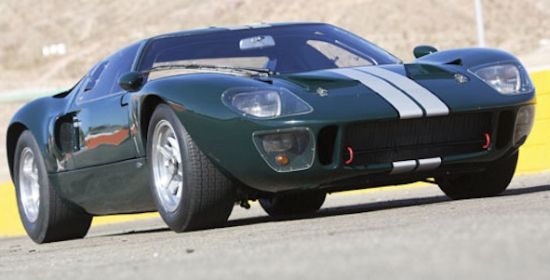 All of you classic car collectors, gear up if you want to exploit the rare opportunity to own a car which is an embodiment of America's thumping entry into the supercar segment. Yes we are talking about rare 1965 Ford GT40 and if you are interested, you need to head to RM Auction to be held in Arizona on January 18th 2013. Ford GT40 was originally built to fight against Ferrari in long distance races on international venues.
RM Auction is presenting a rare 1965 GT40 with chassis No. P/1034 and is the only car that sent chills to Enzo Ferrari's spine by breaking the line of victories that Ferrari boasted under its belt. It won 24 Hours of Le Mans four times in a row from 1966 to 1969. Painted in pine green color, the rare Ford GT40 is always a collector's delight.
Under the hood of Ford GT40 is a 4.7-liter V-8 engine that was confined to develop 335hp and if you think this isn't enough comparing to modern cars, bear in mind that we are talking about a car built 47 years ago and during 1960s it was one of the most powerful cars enthusiasts ever went crazy for.
The green 1965 Ford GT40 here in question was first purchased by James Fielding but was later restored with silver Le Mans stripes, a heated windshield and fender mounted side view mirrors. It also features duel fuel tanks and fuel gauges and mufflers. Having important place in America's auto history and being one of the seven examples that proved American mettle in international racing is expected to sell for a price as high as $3 million.