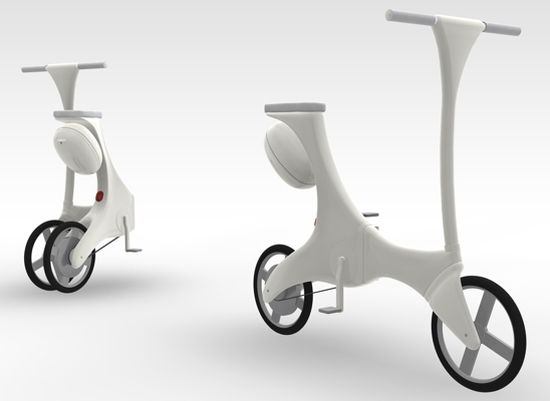 Bikes were, are and will always be one of the most eco friendly modes of transportation. However, bikes have evolved with time and now are available as pedal electric machines to take that proverbial fatigue away, to some extent, from the rider. The design of the bike has also gone considerable changes with respect to time and the latest ones are compact to fit on the cramped city space and foldable to store it in the minimum possible space.
Here is one such bicycle that not only gives you freedom to travel a short distance to your workspace or any other location but also does it with style. It also helps you eschew the thick traffic and make your reach your coveted destination well ahead of any means of transportation, viz. car or train, in the cities.
The brainchild of Lithuanian designer Victoria Cegyte, the folding e-Bike is christened as Fwave. Design wise, the Fwave bicycle is minimum yet attractive and has three modes: it can solely run on electric power, on human power by using the pedal mechanism or by using human and electric power simultaneously. Other than its eco friendly credentials, the Fwave electric bike is technically advanced as everything is controlled via an integrated display that allows you to turn electric engine on or off on the basis of road conditions as well as control the engine and battery performance accordingly.
The battery of folding electric bike is charged during treadle and braking, but it's not without a manual charging possibility. The mechanism of the bike is made in such a way that it enables the rider to change the seat and wheel height. The neat design of the e-Bike has all the other things like pipes and chains hidden inside the frame, while the electric engine is placed at the rear wheel.
Another important feature of the E-Bike is it's lightweight and its folding system, unlike other folding bikes, is simple which allows it to instantly fold and ship easily, carry or store at the minimal space. The removable carrier allows you to take your small items like camera along. So, the folding Fwave e-Bike is the new style quotient in the segment.