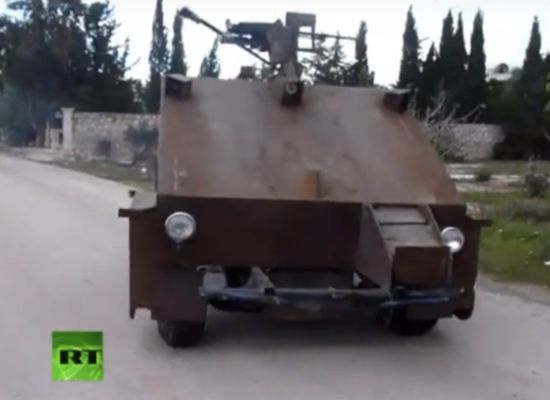 There is a simple saying, if you can't buy something, create it. This seems to be the right thing for the Syrian rebels who are, perhaps, running short of funds to buy some tanks to gear up their operations against President Bashar al-Assad's government. The rebels go creative and come out with their version of a tank created using nothing but scrap auto parts.
Christened as Sham Il, the tank comes on the chassis of an old car and has a turret-mounted machinegun affixed to it. What's the real embodiment of creativity is the machine gun which is aimed and fired using what looks like a PlayStation controller.
There are no windows in the tank and the outside movements are relayed to the pilot's LCD display through external cameras. The Sham II is made to stand against M1A1. The rusty looking and ill shaped tank built in the backyard by Syrian rebels mark the creativity on one hand, but on the other it also speaks a lot about how a boon could prove bane at times.