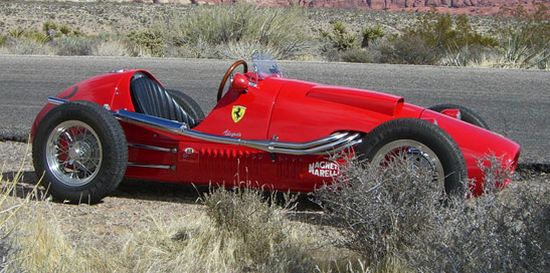 For a sports car collector, cars built in Italy will always be a prized possession at any given day. Particularly, if it's a Ferrari, there is even more reason for one to go crazy. The reason being, apart from the classic form that prancing horses always bear, the brand has a rich history in sports cars. Marco Srour is one of the crazy collectors of Italian cars. However, this time he hasn't bought one but builds one for himself and it's really good.
The car here in question is a 2/3 scale version of the 1952 Ferrari F2 500 race car. Marco Srour's two-thirds-scale version of Ferrari F2 500 race car measures just three feet tall, six feet long and you can drive it on the streets. The scaled drivable version of the original Ferrari F2 500 built in 1952 is the first version of Srour's ambition to convert the Ferraris into road wracking beasts. Another, two-thirds-scale 275 GTB/4, which was driven to fames by Steve McQueen, will be on road by next year.
Being one of the most prolific Ferrari cars every built and touted as the second most successful car in F1 history (after McLaren MP4/4), Srour bought the F2 as a present for his 12 years old son for a cool $75,000 in Las Vegas and it was an underpowered car designed for kids. Now, Srour's F2 can hit 90mph, thanks to the Srour's mechanic, Raffi Najjarian who converted it into a road rocket. However, driving it involves a risk as even a careless Mini driver could take it out.
The making of this scaled F2 started in 2005 and completed in three stages: the drivetrain and suspension were completed first, followed by massive overhaul to chassis and engine. Thereafter, the headlights, turn signals, 14" wire rims and a small license plate bracket was installed. In order to keep the noise of the car to a minimum, a modified Harley-Davidson muffler was tacked to the chrome exhaust tips that made it a gentleman's car.
Additionally, the chassis and body work was extended to provide the extra leg space for the adult and brakes were upgraded to a dual-circuit system that functions independently from front and back. The scaled F2 weighs roughly 600 lbs and uses drum brakes to bring it to a halt.
The original setup of powertrain that consisted of a 500cc engine aligned with four speed transmission with 4 synchros. The maximum power output of 27hp helped it get to a top speed of 40mph is revamped with custom housing being fitted and transmission is replaced with Nissan Dogleg. On the other hand, engine is fitted with Abarth racing parts to increase the displacement to 600cc and thereby took the power tally to around 45hp which enables it to get to a top speed of 90mph.