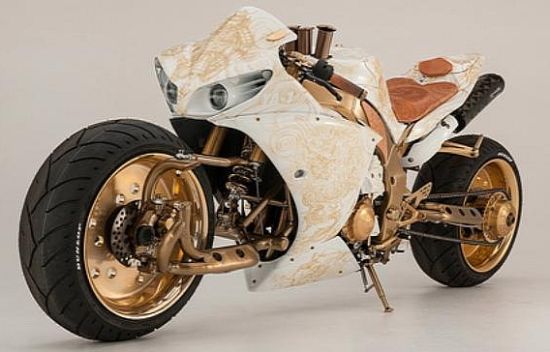 Out of too many custom motorbikes you might have seen so far, this custom Yamaha YZF-R1 form custom chop shop Sesto Custom Cycles is distinct for reason being many. It's overall conversion and the masculine looks make it a real beast among two-wheelers. The creator, Tony Sesto who owns the Sesto Custom Cycles, rode this stunning motorbike from his shop in Stanton, CA to International Motorcycle Show in Long Beach to leave the show goers in gasping awe.
The winner of the 2012 Custom Showdown Pro Builder of the year, the crew at Sesto Custom Cycles took five weeks to convert Yamaha YZF-R1 into a piece of art with steampunk creativity, distinct color scheme consisting of copper, brass and white color which is reminiscent of Yamaha 's musical history. While borrowing the design elements from the 125 years old history of Yamaha, the modder used body work of R1 as homage to Yamaha's history.
Featuring company's original logo from 1898 and fitted with a single-sided, hub-center steered front end, the custom R1 from Sesto Custom Cycles has been stretched to a size that a few of the modern day drag bikes can really dream of. Adding more aggression to the overall looks is a radial 240mm tire wrapped on the custom front rim that matches the rear one. The final outcome is a custom Yamaha YZF-R1 that everyone can't help but watch in awe.