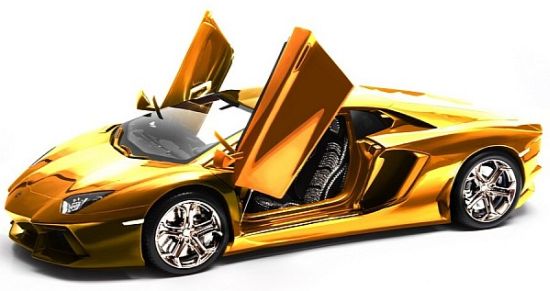 One-off and a real unique 1/8 scaled masterpiece of Lamborghini Aventador LP700-4 from the German designer and model specialist Robert Guelpen surfaced on the web in December last year. The scaled model Lamborghini Aventador which is embedded with more than 1,400 diamonds; platinum and pure gold was rated at a whopping € 3.5 million at an auction in NY in the same month.
However, the scaled model comes in the news yet again as Sotheby´s, one of the most popular auctioneers, has re-evaluated the cost of the model to a staggering € 10.5 million (USD 13,660,500 at current exchange rate) which amounts to 65 times higher than the price of the real deal. The material used in the making was estimated at € 2.5 million which would increase the target margin of profit from € 500,000 to a whopping € 8.0 million.
Apart from its stunning price tag, the 1/8 scaled model of the Lamborghini Aventador LP700-4 will make inroads to the Guinness Book of World Records for holding three records at a time: for being most expensive model car, the world's most secure showcase and the world's most luxurious logo.