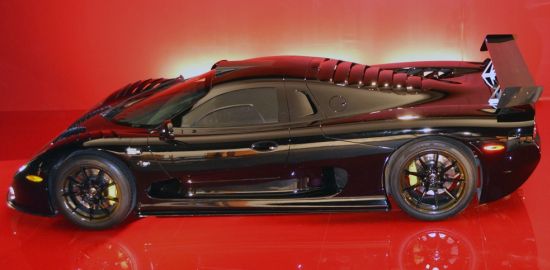 The hoax of world ending on 21/12/2012 is making rounds of the web for quite some time. However, American company Supercar Engineering, Inc. is celebrating the end of the world with the suicidal update of the RaptorGTR on 12-12-12. The RaptorGTR Suicide1212 Edition is simply immaculate and puts the world's fastest car Bugatti Veyron Super Sport to shame.
Yes you read it right, the Suicide1212 upgrade of the original RaptorGTR is real beast with impressive 1212 hp and takes merely 2.2 seconds to sprint from 0-60mph to outdo Bugatti Veyron SS. The top speed is rated at 263mph. What's even more impressive is the fact that it has power to weight ratio of 927hp/per ton. The performance is ensured with fully re-tuned engine, upgraded appearance package, larger twin turbo setup placed at the rear and much more that makes it one hell of a roaring monster to give you that exhilarating driving thrill before the Mayans get you.
Upgraded RaptorGTR is surely the most collectible cars in the history for reasons being many: first it is released on 12-12-12 and it's the last Mosler supercar ever since Mosler Automotive is closing doors. The extremely limited edition being #001 of 1, RaptorGTR Suicide1212 Edition is Bugatti Veyron slayer every bit yet comes with a fraction of the price and can be yours for just $700,000 USD.