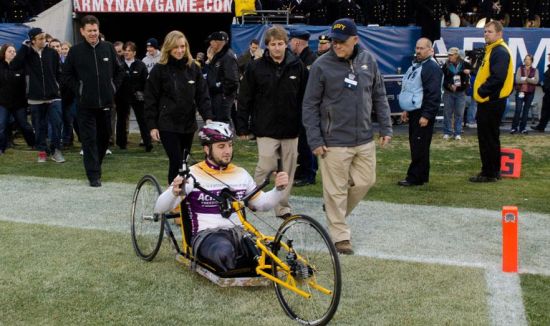 The 113th Army-Navy games were held on December 8. At this occasion, Chevrolet and students from the Michigan Technological University revealed a new hand cycle which is aimed at providing a vehicle for the wounded war veterans to compete in racing events including marathons with relative ease.
Ten copies of the specially designed hand cycle, as per the GM CEO Dan Akerson, will be built in total and will be used by the Achilles Freedom team of wounded soldiers in marathons all over the country. The cycle is designed comfortable, stronger yet lightweight making it more portable than what is currently available in the market.
The cycle is the brainchild of Michigan Tech mechanical engineering students who designed it for a senior project called "Huskies Helping Heroes". The cycle isn't just an imagination but designed after spending time with war veterans to know their needs and observe their races. The cycle enables the rider to lean forward when he pumps the wheels with their hands. The Cycle comes out to be a better option for amputees or seriously injured soldiers for racing during events than a traditional wheel chair.
Created using high strength steel, improved restraints for comfort and safety, the hand cycle is less prone to damage and pivoting fork which is attached to frame allows the front wheel to fold into the seat thereby adding more to ease of portability.
Source: GM