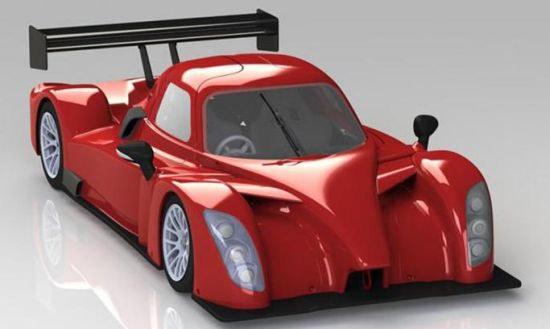 There is a new entrant to the supercar segment from the Peterborough sports car company, Radical. Dubbed the Radical RXC supercar, wherein RXC stands for Radical Xtreme Coupé is what the British automaker describes as the Le Mans-inspired racer for the road. The two-seater RXC supercar gets power from a 3.7-litre V6 engine soured from Ford. The powerplant is capable of 380hp and a peak torque of 320lb ft.  Engine is mated to a seven-speed paddle shift gearbox that conduit power to the rear wheels.
What makes the Radical RXC supercar as the ferocious beast is its capability to get from zero to 62mph in 2.8 seconds which is one tenth of a second faster than Lamborghini Avntador, thanks to the amazing 422bhp per ton power to weight ratio. The top speed is rated at 175mph. This is even more commendable when RXC measures 4300mm long, 1960mm wide and 1127mm high making it the widest and longest model from Radical till date. Bringing the beast to a halt are 330mm disc brakes up front and 310mm discs at rear, whereas carbon-ceramic discs are offered optional.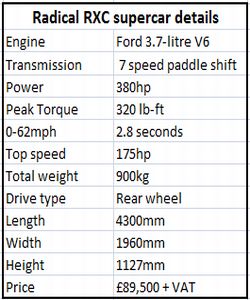 Supercar weighs 900kg and its bodywork is inspired by current Le Mans racer. Body is made up of composite body sections under which is a tubular steel space frame with FIA spec front and rear crash structure and double wishbone suspension at both ends. Adding more aggression to the sixth model from Radical are front and rear diffusers as well as massive carbon fiber rear wing.
Some of the other prominent features of the Radical RXC supercar include gullwing doors, air conditioning, adjustable power steering wheel and pedal box and heated front screen. The supercar also features Race-specification Corbeau seats with six-point harnesses for two inside. RXC supercar will be made in road and race editions, wherein the road variant runs on 17-inch wheels and tires.
A race variant of the RXC is coming to the Autosport International show at Birmingham NEC on 10 January, while the type approved model is to go on sale next summer with a launch price of £89,500, excluding VAT.
Source Radical