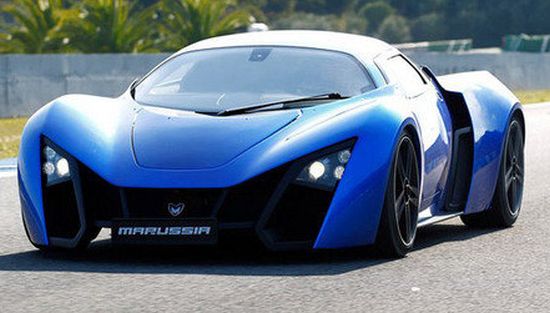 Marussia B2 which is built as an evolution of B1, the first supercar from Russia, is spotted undergoing testing without camouflage. The second supercar from Russia continues with same impressive technologies and exquisite lightweight yet strong chassis structure with Marussia-Cosworth power units that set it apart from the other vehicles in the market.
Marussia B2 will come with two centrally positioned engines to choose from: a 2.8 liter V6 turbo co-developed with Cosworth or a naturally aspirated 3.5 liter V6. The former is rated at 360 or 420hp with a peak torque of 383 lbs-ft and 442 lbs-ft respectively. The 420hp variant will weigh 2425 lbs and will be capable of sprinting from 0-100km/h in 3.8 seconds, with its top speed at 250km/h. The latter is capable of developing 300hp which is transferred to the rear wheels through a six speed automatic transmission.
Flaunting more aggressive front fascia, satin black exterior paintwork on the intakes, geometric elements, grille, headlamp apertures, deeply recessed intakes just ahead of rear wheels not only give it an appearance of an insect but set it apart from its predecessor. Additionally, Marussia B1 and B2 share chassis and powertrain designs and the latter comes equipped with the same adjustable suspension, massively powerful brakes, light alloy wheels and high performance tires.
The interior of Marussia B2 is equipped with distinct design and flaunts all the multimedia and equipments which is distinct from the other supercars in the market. On the top of this, the interiors can be made to orders. Only 500 units of Marussia were planned with its price starting from $130,460 and all of them ordered merely after 12 months it hit the market.
Source: Marussia Motors