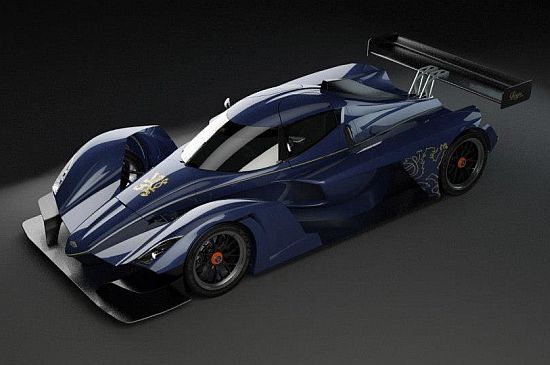 Parga racing UK has just released the details and images of their Praga R1 track-only car to compete from British GT to the Daytona 24hrs. The race car measures 4170 mm X 1800 mm X 995 mm for length, width and height respectively and weighs merely 590 kilos. Under the hood is a 2.0-liter four-cylinder engine sourced from Renault Sport Technologies which is rated at 210hp. Power is channelized to the rear wheels through JFR 6-speed Hewland sequential gearbox with pneumatic control and an optional self-locking differential.
While that might not sound too impressive for any power loving auto nerd, but before you start making on your opinion know that it has a hefty power to weight ratio of 6.19 pounds per horsepower (of 356 hp/ton). What's even more impressive is the fact that it has carbon fiber monocoque with built-in crumple zones and the car features race specific safety equipments like safety fuel tank, fire extinguishing system and 6-point seatbelts.
Though the R1 will be a track only car but the two seat model is homologated for normal roads that allows the interested buyers can use it for regular commute. Furthermore, the other components like Motec electronic engine management, AP Racing clutch and Koni dampers complete the package. Praga R1 will be a limited edition and all the units will be hand built in Czech Republic and will come with 98,000 EUR price tag which amounts to $128,800 at the current exchange rates.