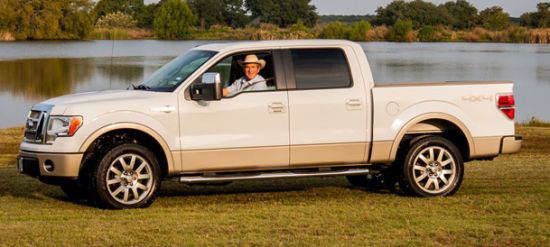 To all of you gear heads who are interested to place their a** right on the seat that once belonged to a dignitary of a rank as high as American president, gear up for the Barrett-Jackson auction to be held in Scottsdale, Arizona on January 19th, 2013. The auctioneers at Barrett-Jackson are offering a 2009 Ford F-150 King Ranch 4×4 SuperCrew which was owned by 43rd president of America, George W. Bush.
Former president ordered this Ford F-150 from Tucson-based Jim Click Ford in 2009 shortly after he left the white House. Ford F-150 has 5.4-liter V8 engine under the hood that develops a cool 310 hp enough to tow 11,200 pounds with its interior embellished with King Ranch premium leather. The truck has only one owner i.e. George W. Bush and the ownership is still on the name of former president. He used F-150 to drive around family ranch sometimes used it to entertain dignitaries, friends, family, and to visit his Crawford property.
The auction has a noble cause behind it as all the proceeds from the auction of F-150 will go the Fisher House Foundation which is established to help the families of American military. This special 2009 Ford F-150 King Ranch 4×4 SuperCrew will come with Bush's signature on the right airbag panel and a video of him autographing the truck and driving it. The F-150 is exclusive for being driven by the former US president and is sure to see the fierce bids before the hammer falls.