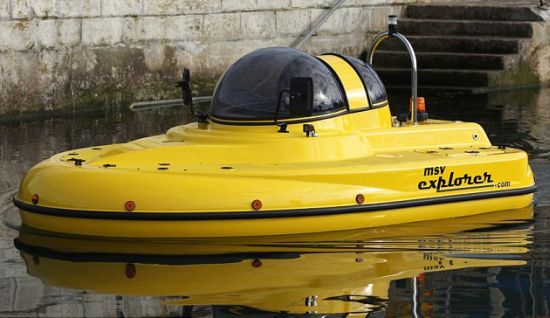 There are continuous efforts from the creative minds across the world to explore new horizons to revolutionize the current means of transportation. Chris Garner is one of the creative minds who intend to make their mark in the field. This guy has just released the prototype of his first amphibious vehicle that he claims is powered by 'Gyro Generator' technology.
The idea to create a range of personal marines struck him after a close encounter with a large shark but now Chris is all set to face the predator on land which marks his first attempt at an amphibious craft, Explorer MSV. Chris claims to have found a solution of age old perpetual motion puzzle and is soon to go public with his breakthrough. Chris claims that his 'Gyro Generator' technology is all set to revolutionize the way we travel by enabling the electric vehicles run continuously without the need to halt and recharge batteries repeatedly.
The amphibious submarine, as the company's site describes, is powered by electricity and controlled by a duel joystick. The meticulously designed dry water craft has dry acrylic cockpit surface that comfortably seats two observers. The amphibian craft has a topside principal pilot seat and it is capable to ferry two people below the surface of the ocean with constant 1.2m. A documentary of the Explorer was recently featured by 'The Discovery Channel Canada' and the academics from the University of Plymouth are to test the technology in the coming weeks.