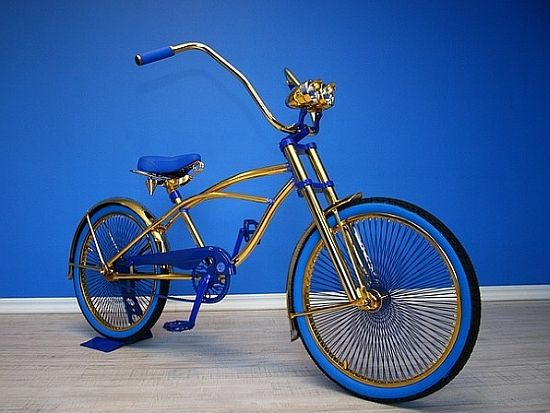 If you have penchant for gilded wheels, this Swarovski-studded bike with gold embroidery is a perfect ride for you this Christmas. The gilded gelem 24Kr/999 sample lowrider bike is the most expensive one from Russia with exclusive details like no other. Russia's most expensive lowrider bike is encrusted with 1,500 Swarovski-crystals with 1 to 5 mm in size.
The seat and handle on the wheel are wrapped in Italian leather, whereas its handbag and pedals are ordered all the way from Germany. Adding more to its exclusivity is the leather seat which is embroidered with gold threads. Such a bike took 14 months of hard work and meticulous eye for the details to take the conspicuous form and yes it comes with a massive price tag of $30,000 to take the title of Russia's most expensive bike.
If you think it's too expensive a bike, you can go for another bike with 1,500 Swarovski-crystals but with gold-gel coating. This exquisite piece with other details matching the blue piece is rated at $21,194.