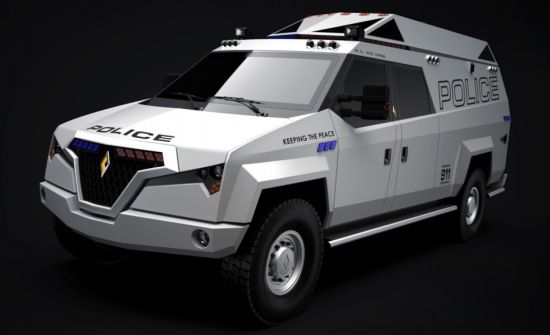 Gone are the days when police vehicles used to lag behind in a chase against criminals. The reason being, police officials across the world are now equipped with latest cars to nab the runaway criminals. However, with the intent to make police cars technologically advanced, Carbon Motors, a startup company, today announced that it is open for the orders to build a vehicle specifically for the law enforcement.
A Multi Mission Vehicle (MMV) that company says is technically advanced and tough is to completely revamp the way law enforcement vehicle are built. The heavy duty vehicle is dubbed as Carbon TX7. Featuring integrated incident command, surveillance and personnel carrying capabilities, the special vehicle can also be used to transport prisoners. The all wheel drive, high tech police vehicle that gets power from a Turbo diesel V8 engine which is rated at 300 bhp and a peak torque of 660 lb-ft. Power is transferred to all the wheels via a six speed automatic transmission. The truck is capable of accommodating a maximum of 10 people at a time. The compressed gas engine version of the same is also in the making.
The body work is a new take on the unique polygonal design of the E7 – a high-tech, purpose built vehicle that company was trying to build earlier but dropped in favor of TX7. The new vehicle which is aimed for the law enforcement will be equal to a truck in size (10 ft high) and will come equipped with many electronic features devised for E7; however, will be built on a chassis from another automaker that Carbon spokesman, Stacy Dean Stephens, didn't give any clue about.
Carbon TX7 will come equipped with many electronic devices like 'Weapons of Mass Destruction' (WMDs) detectors, infrared as well as 360-degree surveillance cameras. Carbon is also exploring an option of adding a solar panel as a backup to power its accessories. The manufacturer will start building the vehicle in the second half of 2013 and it will come with a price tag of $149,950.
Soure: Carbon Motors