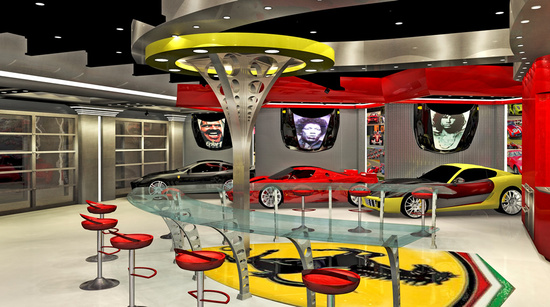 From coolest car garages in homes to apartment garages that allow you park your expensive wheels next to your living space, we have seen them all. They aren't just embodiment of a different flair but also mark the ingenuity of creators. Now we are going to introduce you with a different type of garage which is devoted to Ferrari only and by different, we really mean different.
Part of a stunning 45,000+ square feet new construction in Paradise Valley, AZ, the Ferrari themed subterranean garage is an ideal destination for any Ferrari nerd who always wants to be in the close proximity of prancing horses. Meant to display retired Ferrari race cars and their hoods, the living showcase is spread in 2400 sq. ft. area to entertain owners and guests.
The garage has all the surfaces sleek and glossy to keep up with the Ferrari theme with entertainment center as well as bar cabinet made of acrylic sans visible handles. Adding more uniqueness to the theme of Ferrari garage is a large Ferrari Logo embedded in the metallic pearl floor and a real racing Ferrari converted into a fully functional simulator.
What makes this Ferrari themed garages even more distinct are the front projectors that show a wrap-around image, actuators under the platform move the car and an integrated soothing sound system for the exciting and safe entertainment. Now you might be thinking how much such a construction might cost? However, before we actually tell you that know that anything with Ferrari badge doesn't come cheap and this Ferrari themed garage isn't an exception. The cost for the Ferrari garage is a whopping $600,000 that includes designing, fabricating and all plus $200,000 for the simulator.