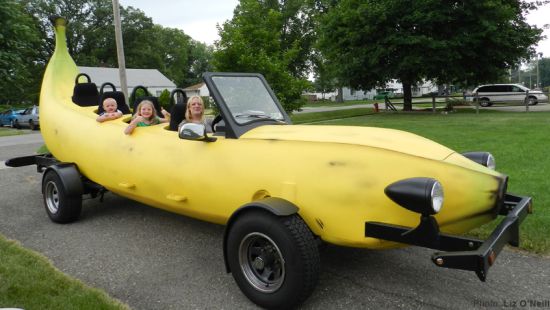 While the wacky wheels are spotted every now and then across the – major or minor – cities of the world and we try our level best to introduce you with the best of the lot. Such creations take auto passion to next level and also, at the same time, demonstrate what can really be done that automakers usually don't do.
One such creation is here – a big Banana Car built by Steve Braithwaite. The car was spotted in the downtown Raleigh and got lots of head turns on the road. The delicious custom car is built on a late 80s or early 90s Ford F-150 pickup truck that has nice and slim frame with front coil springs and gas tank inside the frame rails.  However, before the Banana car took form, let me tell you that body of the F-150 was chopped to bare frame with engine, front and rear suspension as well as gas tank, rest is all new and hand built.
The building process is marked with wooden slices that are cut and fixed to Ford chassis and the skeleton shape of the banana is formed with 1/2″ rebar which will be covered with chicken wire and sprayed with a layer of foam. Once the foam layer will be smooth, it is, finally, covered with fiberglass to give the vehicle a banana like shape. Steve wants to drive his unique creation in some part of the world and says that the Banana car being an all wheel drive with two gas tanks suits the best for any terrain it takes on. No matter wherever it goes, the auto enthusiasts will have all praise for this unique creation.