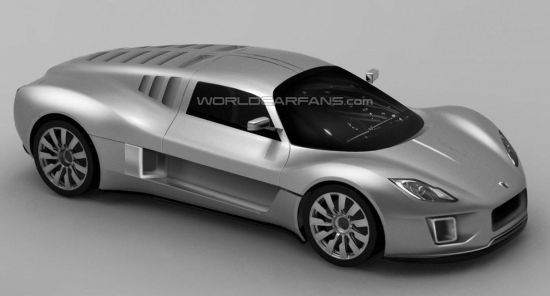 Gumpert announced the inclusion of a new two-seater Tourer model to its lineup at the Geneva Motor Show last year. However, contrary to the developments in the recent past that led the company to the insolvency, the first images of the production version Tornante have leaked online to the surprise of many.
The production version of the Tornante appears to be different to the concept revealed at the 2011 Geneva Motor show. The differences can be spotted in the form of  louvred window at the rear, horizontal exhaust pipes and it looks up to  Lamborghini Gallardo for its taillight design. Additionally, the new front lip spoiler with slight difference and revised headlamp design give it a different look altogether .
No details about the powertrain or engine are provided either. But we expect it to come equipped with at least similar engine that concept version was proposed with – a bi-turbo V8 powerplant rated at 690 hp. A 6-speed semi-automatic gearbox with paddle shifters was also proposed to be aligned with the V8 engine which was capable of hitting a top speed of 186 mph.
The concept was equipped with 19" alloy wheels upfront and 20 inch rims on the rear that were covered with Michelin Pilot Super Sport tires. Expect to see at least these details when the Gumpert Tornante production version roll out of the factory.