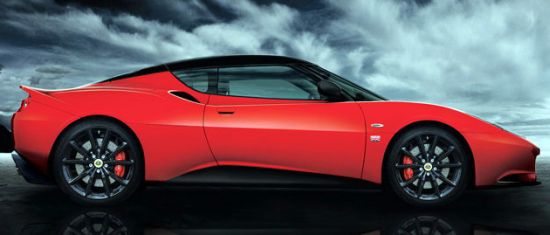 Even when the festive season is on and a major auto show is round the corner, automakers are playing safe by slowing down their daily output of cars. However, Lotus defies all the concerns and reveals the new package for the Evora, dubbed the Sports Racer. The special edition Evora Sports Racer flaunts race inspired looks, more luxurious cabin and the top of this, it promises to be more affordable than ever.
Now you might be thinking what's so unique that special edition Evora offers. Um… let's count on that. It comes with four color choices: Carbon Grey, Aspen White, Ardent Red  and Nightfall Blue. The special edition also features the gloss back finish for the roof, front splitter, side skirts, mirror pods, rear diffuser and black alloy wheels with black or either red calipers. The another difference is a standard four seat configuration that comes with dashboard panels finished in gunmetal, black leather seats with red stitching or red leather with black stitching, whereas the dash, doors and center console have Slate Grey Suede trim.
On the other, the Lotus Evora Sports Racer comes with 'sports pack' as standard. It offers sharper throttle response, an increased rev limit and a sportier setting for Dynamic performance management. The special edition Evora is also equipped with rear diffuser and cross-drilled brake discs. On the other hand, Sports Racer Lotus Evora also comes with a 'Tech Pack' that includes infotainment system with a better sound system, DVD player, 7-inch touch screen, Bluetooth, USB and iPod connectivity.
Additionally, the standard equipments for the Evora Sports Racer are tire pressure monitoring, cruise control, rear parking sensors, power folding mirrors and a reversing camera. Lotus Evora Sports Racer will be available in naturally-aspired and supercharged versions. The 3.5-liter DOHC V-6 engine remains standard and it generates a total of 276hp in the naturally aspirated version while in the supercharged version; the power tally goes to 345hp and 295 pound feet of torque.
The price for the naturally aspirated Lotus Evora Sports Racer is set at £57,900 which roughly equals to $94,300 at the current exchange rates and the supercharged variant to cost £65,900 with cost benefits of £6,450 and £7,150 for both versions respectively.