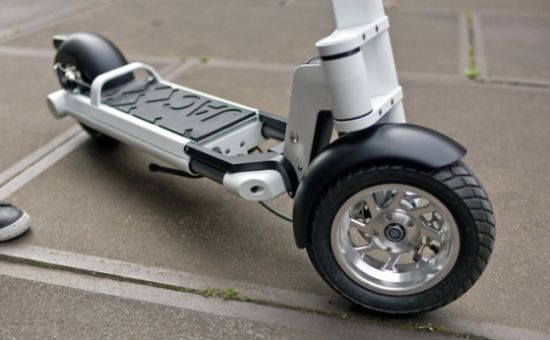 In a time when environment concerns are raising high, streets are full of vehicles and parking woes are at the highest, there always remains a need for compact, eco friendly personal means of transportation that are not only light on your pocket but on environment too. These vehicles are meant to support your short distance commutes and provide you a hassle free journey to your destination.
Here we are introducing you with one such vehicle, JAC which is a lightweight foldable electric scooter from LEEV mobility with multiple benefits. First it's a lightweight (20kg) scooter that you can fold easily to carry along. Secondly, you can charge it in your car. Thirdly, it's a high tech electric vehicle with eye catchy design and offers more comfortable rides to what is currently available in the market. In a nutshell, its electric, foldable and affordable (US$ 1,950) features make it ideal choice for the eco friendly souls of the modern cites.
Ideal for the short distance travels on the urban roads, JAC foldable electric scooter gets power from a hub motor placed in the rear wheel which gets a vital juice from the lithium polymer battery. The electric motor generates a total of 350W to propel the electric scooter at the top speed of 15 miles/h with its range at 12.5 miles on a single charge which is quite enough to bridge your parking place to your destination.
If you are one of the people who live within the said range from your office, the foldable electric scooter will help you rid the traffic jams of in the rush hours to reach your destination well in time. The market launch of JAC foldable electric scooter is scheduled for the summer of 2013. So, if you are interested to own one, hurry up as it's a limited edition and only 10 will be available in US for US$ 1,950 excluding tax.