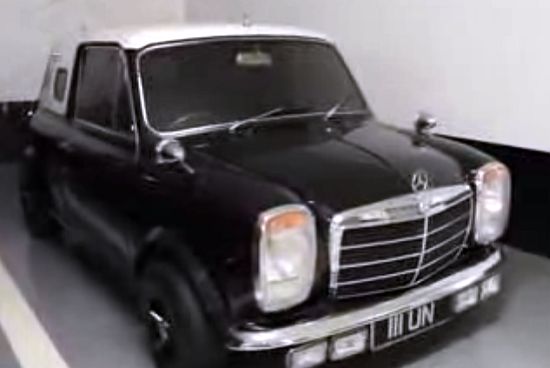 In a world where auto passion goes to a new high every day, the amazing creations usually coming to the fore isn't something unexpected. While we always strive to introduce you people with something spectacular, the one pictured above is going to amuse you for sure. Well, it's a Benz in Mini form and it looks one-off-a-kind and impressive, indeed.
There is no information available precisely as to who created it, what the base for this amazing beauty was or the inspiration behind it, but we assume that Aston Martin Cygnet Mini's base has been used to somehow unite it with its ancestor. The classic Mini with 1968 Mercedes-Benz W114/W115s squeezed face was spotted in an underground parking lot in Cannes.
The customized Benz Mini is surely a great piece of art and it seems the creator was excessively in love with Aston Martin Cygnet mini and Mercedes W114 1968 and wanted to combine two cars in one and what comes out is more than commendable.