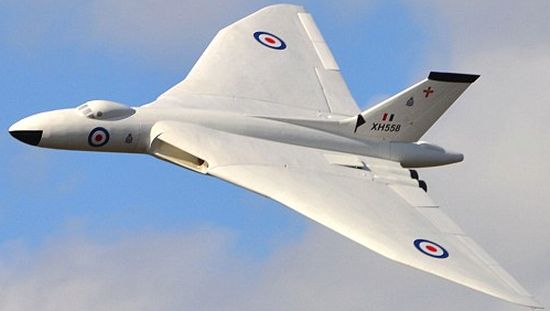 What looks like a normal fighter jet on a routine patrolling to a normal eye is so close to the real deal that it even baffled the experts is nothing but Dave Johnson's radio-controlled Vulcan bomber. However, being an impressive airplane doesn't necessarily mean it was created by experts or assembled in any factory plant either but in the backyard. Well, if that sounds interesting to you, read the following lines to know more about this spectacular creation.
The life-like Vulcan bomber is built by Dave Johnson, 64, from Warrington in his home garage who was so passionate about building an airplane that he even cut down a tree in his garden to avail wood for the jet. The DIY jet has its internal structure built from plywood and balsa wood which was later covered in plastic paint and finally sprayed with car paint to hold the distinction of Uk's biggest four-jet engine model airplane.
The inspiration for the creating the airplane came from the Vulcan strategic bomber that RAF used during 1956 and 1984. The Dave Johnson's Vulcan bomber took three years to came into being has a wind span of 20 ft and can reach a top speed of 150 mph with its worth at £25,000. And considering the fact that it came from the backyard, we have all praise for the craftsmanship and the meticulous details it is built with to make it appear like real one.