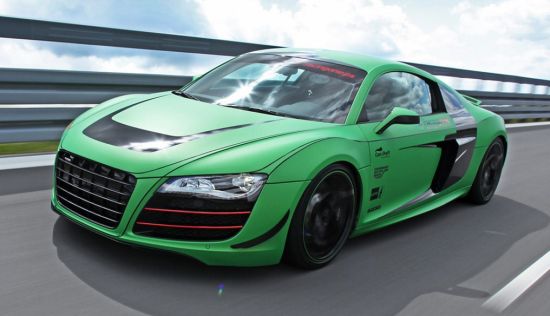 Auto tuners never settle down with anything that car manufactures tout as immaculate or perfect. They show their ingenuity every now and then and usually come up with packages to boost its power or make it look better. One such example is a mighty R8 V10 supercar from Audi – a sleek beauty capable of giving goose bumps to auto nerds.
However, Racing One, German motor sports service provider and event organizer, undertook the task to play with the beast. Before we tell you what the tuner did, let me remind you some facts about Audi R8 V10. The popular R8 from Audi is powered by a 5.2-liter V10 engine that generates a huge 518hp and a peak torque output of 390.91 lb-ft. Audi R8 V10 takes a leap from zero to 100 km/h in just 3.9 seconds and reaches 200 km/h in 8.1 seconds.
However, Racing One takes the power tally from 525 PS to 610 PS with the help of custom Akrapovic titanium exhaust system and by tailoring ECU afresh for the car. Other things that tuner upgraded include dampers that were replaced with Bilstein 2-way MDS, Performance Friction Brakes and semi-slick track tires are wrapped around black wheels of Audi.
Inside, the seatbelts have been replaced with 6-point harnesses and a fire extinguisher has been added apart from interior chassis support braces that completes the whole package. If you are interested to add little more details to your already stunning Audi R8 V10, the whole thing will cost you around US$33,000.
Via: Worldcarfans