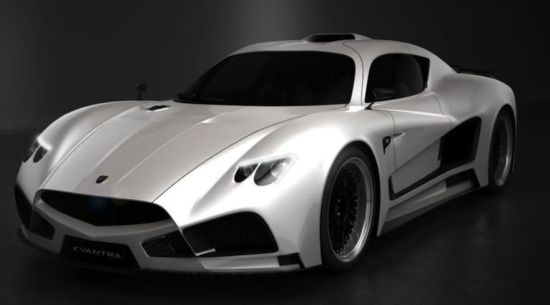 Ahead of its debut at the 2013 Top Marques exhibition in Monaco, the Italian supercar maker Mazzanti Automobili reveals new images of Mazzanti Evantra V8. Designed by Luca Mazzanti and Zsolt Tarnok, who were also the creative hands behind F&M Vulca sports car, the supercar with mind mounted engine was first announced in 2011.
Named after the goddess of immortality in the Etruscan culture, the Mazzanti Evantra V8 comes equipped with all aluminum 7.0-litre V8 engine capable of generating 523kW and 848 Nm of peak torque. Engine is aligned with a sequential six speed transmission developed by Sila Holding Industrial which enables the supercar to get from 0-100km/h in 3.2 seconds, before reaching the top speed of 350km/h.
Evantra supercar flaunts steel chassis that are reinforced with a chrome-molybdenum roll cage to obtain the extreme rigidity to keep occupants safe. The Mazzanti Evantra V8 is a two-seater coupe and is up in two different body types viz. Pro-body which is made up of carbon fiber and composite materials as well as One-Body which is handmade all-aluminum.
The aerodynamics, which plays a major role in the shape of the supercar, is developed in collaboration with Ysim. Inside, one can find the aniline-prepared leather upholstery, while the center console has a race data and acquisition display. The start button is placed on the roof liner, while the lower part of the console have options for two engine/gearbox settings  that includes Starda which means 'street' and Corsa which means 'Race'. Additionally, the steering wheel has a small screen to display showing the gear ratio.