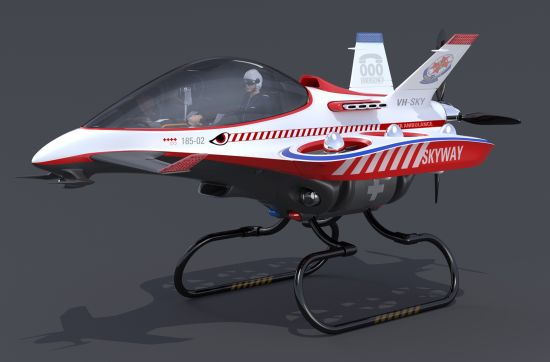 In the emergencies, providing immediate health support is a big challenge. Emergency helicopters used for the purpose have their limitations too like they're slow, need bigger space to land closer to object and above all they are limited in availability owing to their high cost. In order to eliminate the limitations and to boost the emergency service networks in future, designer Daniel Dobrogorsky imagines a vehicle that reaches the emergency location in minutes.
Dubbed the Skyway, the concept is a compact, first response air ambulance vehicle with vertical take-off and landing capacity. The single-seater Skyway jet immediately carries the pilot/paramedic to the emergency location and after observation if the situation of the patient is found critical, it can transport him to the nearby hospital using its nose that also serves as a stretcher. It can do so far quickly than any road ambulance or other means of medical aids as there are bleak, almost zero, chances of Skyway to get stuck in traffic.
Skyway air ambulance is designed while adhering to the safety concerns and is reliable, fast, versatile, and has low manufacturing cost with high levels of semi-automated pilot control. Like any other craft, the Skyway is designed with exposed blades at rear but it uses only six ducted fans to take a plunge into the air thereby eliminating the dangers from exposed propellers to anyone on ground. Skyway air ambulance seems fit to provide medical support in difficult times in future as its compact design enables it to help needy people no matter where they are.