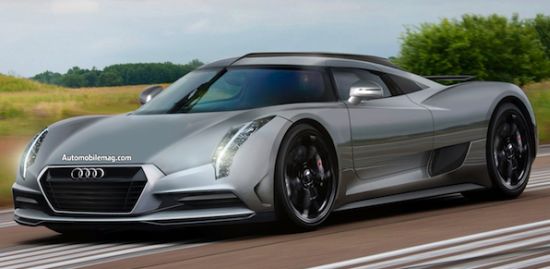 While news appearing about Audi putting R8 E-Tron on hold in October this year might have disappointed many of brand's fans, but there are some cheers as automobilemag reports that brand hasn't dropped the idea of offering a hybrid supercar altogether. Though one needs to wait little too long to sit behind Audi's hybrid supercar, but it's better late than never. What say?
The new project which is known as R20 or R10 will be a road going version of Audi's Le Mans winning LMP1 car and will essentially be a McLaren's P1's slayer. Audi R20 may come equipped with brand's trademarked full length tailfin from R18 LeMans racer other than scaled down single frame grille, stacked LED headlights, ventilated wings at front and rear, adjustable rear spoiler which might also double as an air brake and narrow canopy cockpit.
Further, Audi R20 will have gullwing doors together with active aerodynamics system that will divide the downforce between front and rear axles to make the car more stable at speeds ranging between 100-200mph. The car is going to be wide, long but lower that will add more to its overall racy stance. Interior of R20 matches the aggressive exterior and expect it to come with multifunctional black panel center display, seats with active contours with four point belts, camera based surround view and scores of other goodies.
The hybrid powertrain of Audi R20 may consist of a twin-turbo V6 that develops around 550hp in a road car. The engine will be combined with two electric motors with a capacity of 75hp each, driving the front wheels (Audi's e-quattro layout). This configuration takes the power tally to a whopping 700hp and 1,000Nm of torque which is further assisted by lightweight body and e-quattro also adds torque vectoring, zero emission capacity, improved traction, boost effect whenever needed and beefs torque curves. R20 might also be equipped with brake energy recuperation, start-stop application and high speed coasting.
As Audi is inching closer to its goal of selling 1.5 million vehicles by 2015, it likely that brand may reveal R20 at the Pebble Beach event in the same year to mark the success. Its production is to start in the spring of 2016 with its output most likely to remain restricted but the numbers aren't clear at this moment of time. Expect at least 100-250 units of the Audi R20 rolling out of the plant.