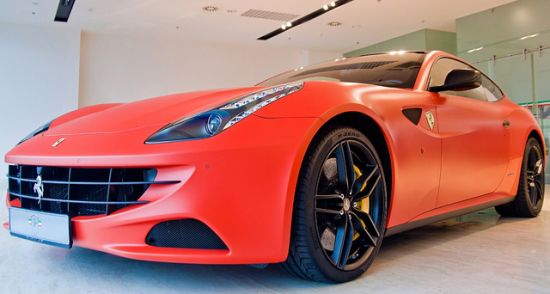 With a seating capacity for four, Ferrari FF was the first car from the brand with four wheel drive configuration introduced on March 1, 2011 at Geneva Motor Show. Under the hood of this car that Ferrari describes as Shooting-brake is a 6.3-liter V12 engine that develops a cool 651hp and 683 Nm of peak torque. This helps Ferrari FF gets a sprint from 0-100 km/h in 3.7 seconds with its top speed at 335 km/h which makes it, as Ferrari claims, the fastest four-seat automobile.
However, the one pictured here isn't a standard FF that Ferrari rolls out of its factory but is a special edition built for a Czech customer. The Special Edition Ferrari FF was on display at Ferrari's dealership in Prague, SF Motors. Since it's a Special Edition FF, it flaunts some unique elements including an exquisite paint job named as Rosso Dino color which combines shades of orange and red color. The paint job is made possible with Ferrari's Tailor Made Personalization program.
On the other hand, the roof of this Czech bound FF is painted in matte black and one can also find many carbon fiber trims, Daytona seats along with JBL sound system. How much these special cost? Well the cost of this special custom built FF to a Czech buyer is rated at €295,000 (USD 389931 at current exchange rate in comparison to USD 300000 for a standard version). However, this thing doesn't make too different from what Ferrari originally offers, particular when there are no updates under the hood. We really don't know what was in buyer's mind when he asked Ferrari to build this special edition but still we know it's Ferrari and it surely does make a great car even when in standard form.