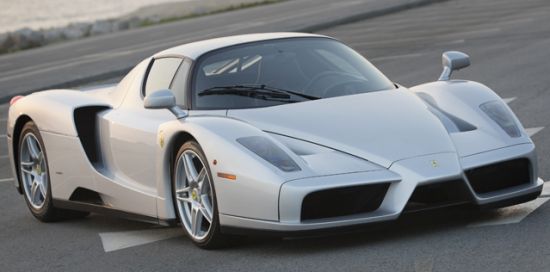 News of Ferrari Enzo successor aka F70 which is codenamed as F150 is hitting the headlines for quite sometimes. However, if you are an ardent fan and couldn't just wait for the new beast to hit the roads, you have a bright chance to own one-off Enzo which is to hit the RM Auction to be held in Arizona next month.
The prancing horse, which is on the top of exemplary performance cars from the Maranello echelon, is painted, unlike majority of 400 red Ferrari Enzos, in silver color. Only six of the total Enzos ever built were painted in silver and the one here in question is the only one delivered in the US. So, this adds more to the exclusivity of the car.
However, anything with a prancing horse doesn't come cheap and you can own this rare Ferrari Enzo from US provided you have over one million in your cache and are read to flex muscles with other collectors to finally let hammer fall in your favor.
Just to recapitulate for the fans, Ferrari built Enzo with 6.0-liter V12 engine capable of producing 660hp which is transferred to the rear wheels through a six-speed sequential gearbox. The said powerpant provided ample juice to make it sprint from 0-60mph in 3.3 seconds before touching a top speed of 218mph. In order to bring the sleek beast to a halt, Enzo boasts first ever carbon-ceramic brakes ever used on a road going car.
The silver Ferrari Enzo was delivered to one of the dealership's owner through Ferrari of Orange County California who sold it to another collector later on. With just over 9,000 miles on the speedometer, this edition is expected to fetch anything between $1,250,000 and $1,500,000 before hammer finally falls.