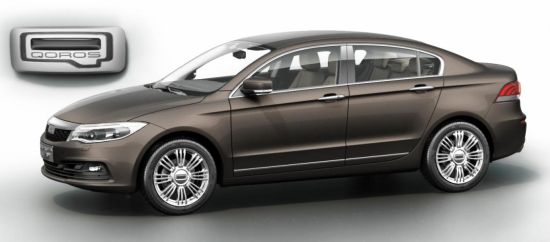 Far ahead of its official debut at the 2013 Geneva Motor Show, the newest car manufacturer from China, Qoros, reveals its first model GQ3. The C-segment car, Qoros GQ3 is to challenge Volkswagen Jetta. The sedan is expected to go on sale in 2013 in China with its sales commencing in Europe later on.
The styling of the Qoros GQ3 is done by former Mini chief designer Gert Hilderbrand who headed the Qoros design teams in Munich and Shanghai. Being the first from Qoros, GQ3 sedan flaunts unparallel design with matching high quality material finish as well as spacious interior which is offered with high-spec infotainment as standard.
Targeted at young buyers who are bit cautious about security, GQ3 is developed to achieve five star rating from Euro NCAP for safety. The design constitutes of low and wide stance which is further highlighted by long wheelbase, inclined roofline that ends in C-pillars, ample space to fit alloy wheels up to 19" in size and a width of 1839mm that makes it one of the widest in the class. On the top of this, horizontal LED bars on the upper edge of the broad headlights give premium look to what seems to be a cheap car.
As it is already mentioned that Qoros GQ3 has a width of 1839mm which clearly means that it will be having a lots of space inside. The center console will have 8 inches touch screen infotainment system and safety of the passengers is ensured with front, side as well as curtain airbags. Additionally, there are seatbelt restraint systems. No engine details or performance figures are made available at this moment of time. Expect Qoros to reveal them close to its official debut at Geneva Motor Show or just make sure you visit the show to see this car in real.
Source: Qoros