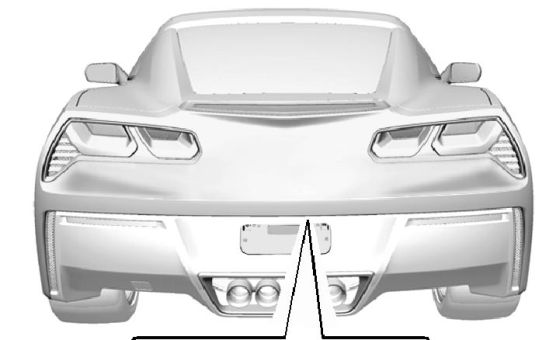 When the product is as highly anticipated as 2014 Chevrolet Corvette C7, the fears of leaks always loom large. We saw the same thing happening last week in the form of C7 front end being  leaked on GM service website and something similar happens after a week as the rear end of 2014 Corvette leaks online, together with some diagrams giving insight into the interior.
The technical details of seventh generation Corvette were revealed earlier and it was reported that it will come equipped with 6.2-liter V8 engine that develops 450hp and 450 lb-ft of torque which is 20hp and 26 lb-ft of torque more than the outgoing 6.2-liter V8 powerplant. A sprint from 0-60 mph is expected to come in less than four seconds.
However, the images of the rear end though can't be considered (even Corvette forum submitter doesn't claim authenticity) genuine but they somehow match to the other leaks we have come across so far. The leaked rear end images of the Corvette C7 reveal new tailpipe design and an image with truck open shows what looks like a small back seat but all remains to imagination only.
The forum member also claims that C7 will come with active engine sound management and setting that varies from stealth, city, tour, sport, track, off-road to auto modes. The manual transmission version might also get active rev matching function but these are merely claims sans any official confirmation whatsoever.
Interior shots include a few secret details too, including steering mounted controls for stereo, Bluetooth phone, information cluster and cruise controls as well as heated and cooled seats are controlled with center mounted buttons. On the top of this, another image of info screen shows that track telematics placed next to tachometer will be used to give driver information on digital screen about gear selection, lap time, G-force and 0-60mph time.