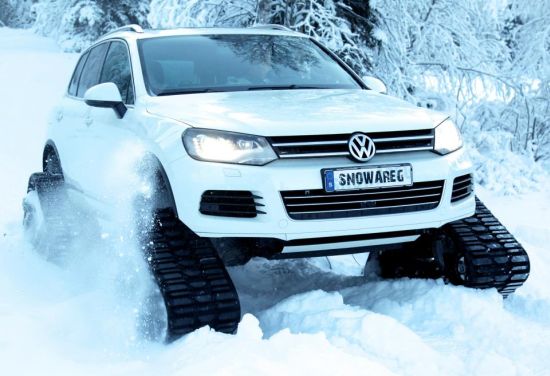 As winter hits and snow sheet spreads across, driving becomes little difficult and chances of sliding on snow are all but imminent. You need to reconsider your drive before you sit behind the steering wheel in winter. If Subaru, Mitsubishi, Audi Quattro or any 4X4 wheel drive SUV strikes you as the best drive in this situation, you need to think again because if any vehicle that can provide you the best or say safest drive on snow sheet, here it is.
In the said situation, Volkswagen Touareg SUV with big wheels might come out to be an ideal choice. However, the Touareg SUV pictured here is different. Created on latest Volkswagen Touareg suspension with rubber track conversion that comes from Minnesota based company, Mattracks, this customized Touareg version was originally created for Volkswagen Sweden in 2011 and it does actually exist.
Dubbed the Volkswagen Snowareg, the best vehicle on snow offers better grip with tank tracks at each corner on any of the surfaces – be it deep snow trenches, muddy road or ice surface. Under the hood is a mighty 4.2-litre V8 TDI engine capable of developing 340hp and 590 lb-ft of peak torque which enables it to get from a naught to 100km/h in 5.8 seconds while offering a fuel economy of 9.1 L/100 km and belches 239 g/km of CO2 through tailpipe.
The only drawback, however, is Volkswagen Snowareg's top speed is limited at 64km/h. But being safe than faster would always be a better choice. What say?