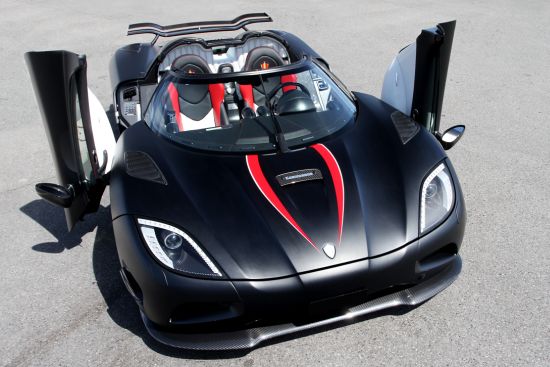 We, at autochunk, usually introduce you with rarest among the rare as well as some historic pieces of automobiles sold at  any auction site or to hit the block in future. There will be another entrant to the long list of rare cars in the form of a 2011 Koenigsegg Agera X that appears on Jameslist for sale with an estimated price of 888,888 Euro, which roughly equals to USD 1,174,932 at the current exchange rate.
The 2011 Koenigsegg Agera X with a chassis no #88 is the eighth Agera ever built by the Swedish automaker. The car was delivered to the main share holder of renowned Porshce tuner from Germany, Gamballa. He owned the car since and it got its latest service at Koenigsegg's headquarter in Angelholm, Sweden.
With its exterior having matte black finish, under the hood of Koenigsegg Agera X is a 5.0 liter twin-turbocharged V8 engine that churns out a massive 910hp and a peak torque of 1,100Nm. The power figures enable the Agera X to hit 0-100km/h comfortable in 3.1 seconds with its top speed at 398km/h.
What's even more interesting is the fact that the Agera X can be upgraded to the more powerful R version with additional 200hp for a cool amount of 180,000 Euro. With merely 3,250km on the odometer, the one of a kind car will surely be a collector's item in future. The deal sound interesting too, particularly when the asking price isn't that extreme either.