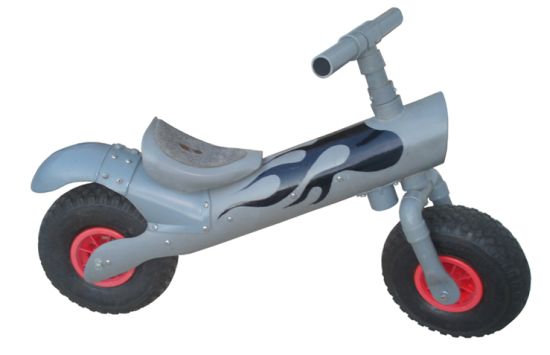 Fancy of mind finds outlet in many forms and what comes out is often spectacular from anything ranging from scrap auto parts to other useless material that hasn't been ever considered fit for such creations. One creation that is to amaze you for sure is pictured above and it looks impressive, to say the least.
It's a rideable children's bike taking from out of PVC drain pipes. The brainchild of Spanish Bruno Gavira, the PVC drain pipes create the coherent whole of this bike, other than the steel axel hubs a with an industrial 8mm appearing as strong metal. The saddle of the bike has been molded from 110mm drain pipe using hot air gun and meticulously cut to into the shape thereafter.
The joints of the PVC drain pipes in the children's bike are put together using PVC glue or screwed depending on how much weight they have to bear to provide strength on the go. The wheels coming from the beer case crate trolley with integrated inner ball bearing give your toddler a fancy ride.
Image courtesy: Designboom