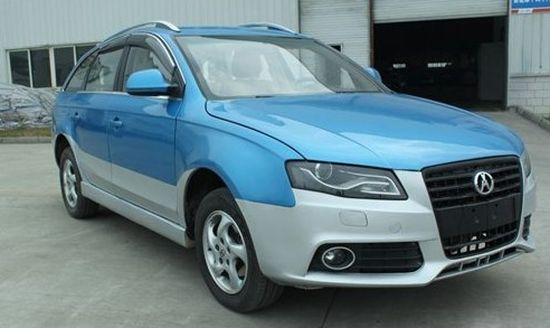 What Chinese are best at – aping anything and almost everything from cell phones to autos that are otherwise the heartbeat of any auto lover across the world. The most recent example of Chinese duplicity drive is a car built by China based Yema Auto. Dubbed Mustang F16, Yema Auto blends Audi A4 Avant, Austin Maestro and Subaru Forester to create a car which unlike these gas powered cars, is an electric vehicle.
The use of 'Mustang' in the name seems only to baffle as it's not even remotely related to a Mustang. The Chinese automaker has ripped the Audi A4 Avant and under the body is a skeleton of an Austin Maestro. The interior heavily replicates Subaru Forester, the reason being Yema builds Forester replicas.
The other details of the Mustang F16 includes Audi A4 lookalike front fascia with the only difference of a logo, window vents, tacky side skirts and wheels that somehow don't  jell with the exterior. Additionally, one can find the increased ground clearance, tail mounted spoiler and a refurbished rear end. Yema's take inside includes heavy metallic trim and use of a cheap shifter.
There is no conformation about the powertrain of the Mustang F16 but it reportedly features an electric motor that gets power from lithium-ion batteries to produce 80hp of peak power, enabling it to get to a top speed of 68mph and a range of 162 miles on a single charge, which doesn't sound that bad either.