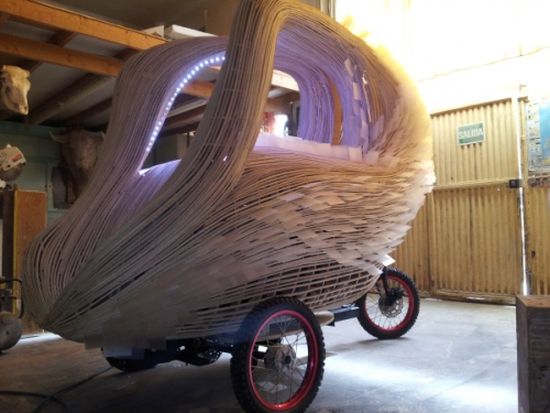 The 3D printed food carts aren't anything new to us, but Robots in Gastronomy takes them to next level. Revealed at Adhocracy exhibition held at Istanbul Design Biennial, Robots in Gastronomy's 3D chocolate printing cart not only brings the 3D printing technology to the streets but is also one of the most mobile in its genre.
Also unveiled at the Milan Design Week this year where the collaborators of the project printed delicious chocolate bars for the 'Future in the Making' show. However, for Adhocracy exhibition, the group commissioned a fabricator to create a wood pavilion to ferry MakerBot 3D chocolate printer around the town. The custom design cart consists of a hundreds of thin wet wood slices that are bent to give shape to the cart with its outer surface giving an impression of an open dish rack.
The white flaps that embellish the exterior of the food cart are nothing but plastic plates that also sever as printing surface to serve the delicious Chocó treats on the go. MakerBot 3D printer is currently undergoing the process of refining to improve the workflow as well as making the software simple to provide not so CAD friendly users a go at edible architecture. The amazing surface of the cart and its form, however, left the street goers in awe.