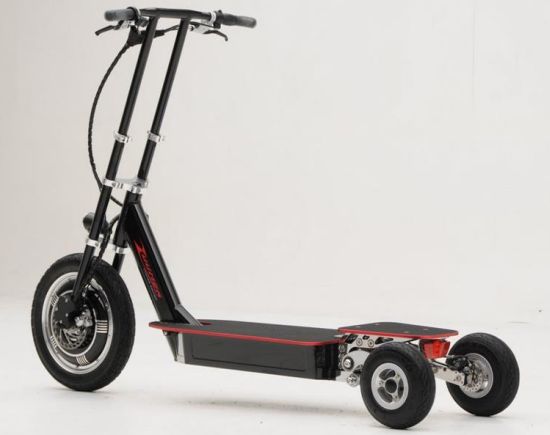 In order to reduce reliability on the private vehicles for short commutes and to make your trip eco friendly, Zuumcraft Inc., a San Diego, California based corporation, has come up with Zuumer – a three-wheeled electric scooter. The innovative personal transportation solution for short trips; Zuumer is a lightweight electric vehicle which is technically advanced and safe.
Handling and safety on the go is increased with patented Integrated Steering Dynamic (ISD) technology that allows the electric vehicle to lean like a motorbike but with better traction control that any such automobile offers. On the other hand, unlike most of the similar vehicles, both wheels of the Zummer electric vehicle steer that makes riding it natural, easy and fun.
Additionally, it's eco friendly credentials as  it gets powered by a 1000W brushless hub motor that enables it to cover 20 miles max on a single charge with a top speed of 20mph. Electric motor gets energy from the two lithium-ion batteries that take 4 hours to charge fully. Measuring 1730mm in length and 430mm width, Zuumer is a compact electric vehicle with 3 disc brakes and capacity to carry a maximum of 300lbs weight (cargo + rider).
With multiple uses including cruising, touring, patrolling or fun, Zummer provides the rider an ultimate experience. Zuumcraft Inc. aims to bring it to the mass production with an expected retail price of $3,200 in US.