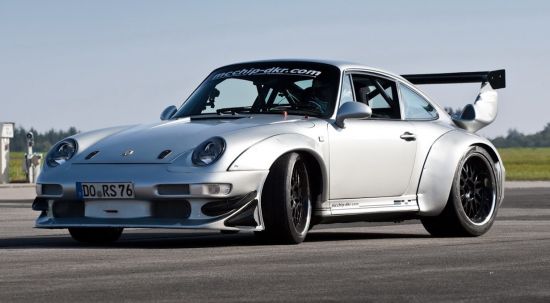 While you own a car for more than a decade, it is but natural that it asks for more attention and costs more to keep it up and running. In such cases, people usually sell their cars for new ones. However, this isn't the case with this classic Porsche 993 GT2 owner. The owner seems excessively in love with his car from mid 1990s and not only restores but converts the sports coupe in street legal track racer.
The owner chose Germany based tuner Mcchip-dkr for the job and the tuner does an impressive makeover to make it look like RAUH-Welt Begriff super wide body 911s. While the process to give Porsche 993 GT2 a new look was tedious and the tuner chopped and stripped the GT2 to bare bones and put it together piece by piece with scores of upgrades on the exterior, interior as well as under the hood.
The bi-turbo 3.6-liter flat six-engine gets a new engine block, rebuilt K26 turbochargers provided by PUTZ Motorsport, ECU tune and a custom exhaust system with sport catalysts. The result of the upgrades appears in the form of output that rises from 450hp to 596hp and a peak torque from 432 lb-ft to 625 lb-ft. Mcchip also added a DREXLER limited-slip differential, new 18" RS lightweight alloy wheels that measure 10×18 and 13×18 in size at front and rear respectively. Additionally, KW racing suspension Competition Variant 3 and scores of aero pieces complete the exterior look.
Now moving inside, there is a safety cage, detachable racing steering wheel, Recaro racing bucket seats, race spec shifter, STACK display with capabilities ranging from video system to data recording and carbon fiber panels. It took more than 800 hours and €200,000 (which roughly equals to USD 265,000 at current exchange rate) for the tuner to give Porsche 993 GT2 not only a new life but also a new face.
Source: Mcchip-dkr