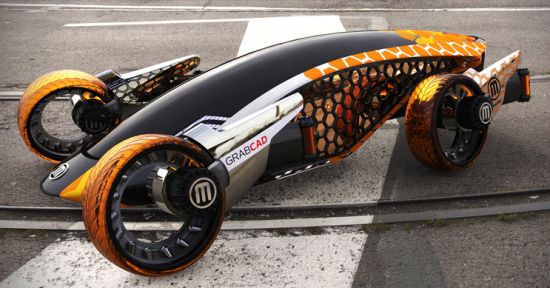 3D Printing isn't something new to any one of us. However, it's been a while that the portable cheap printers with the capacity to print a variety of products have hit the market. This development has led an Auto designer, Luis Cordoba, think of a scenario in 2040 wherein the 3D printing has met the commercial standards and printing anything of any size will be relatively easy.
Luis Cordoba imagines a 3D printed electric car, christened as Firanse R3 for 2040 – an year wherein 3D printing has not only revolutionized the way cars are built, but also the recycling process, while at the same time it's cheaper and efficient. Manufacturing a car with 3D print technology is as easy as it gets. The concept Firanse R3 3D printed car consists of two parts: the first one is cab that holds seats, batteries and the principle controls whereas the second part combines modular wheels that incorporate electric motors, brakes suspension, direction system and many other parts.
On the top of this, if any of the car's part is broken, it could be remolded and printed again to fit in the car yet again which not only makes it a futuristic car that's light on environment but also a new paradigm for how car's parts are reused without affecting anything around.