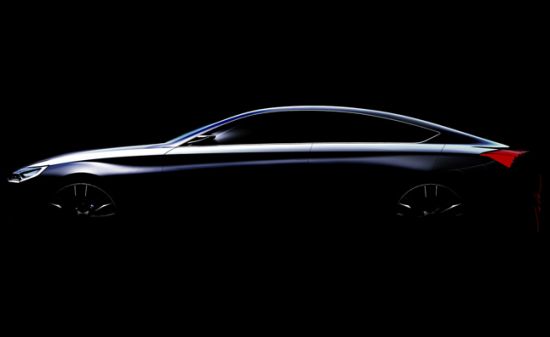 As the 2012 Detroit Motor Show is around the corner, automakers across the globe have started previewing or teasing their vehicles that are to be displayed at the show. The latest in the line is Hyundai that has announced that it will be showing a premium vehicle, dubbed the HCD-14 at the 2013 NAIAS. Hyundai HCD-14 concept is to preview the Genesis which is to hit the market in 2014.
The Japanese automaker will also be showcasing the gesture controlled technology in HCD-14 that will enable driver control in-car tech with gestures only. What seems to flaunt improved driving dynamics, Hyundai HCD-14 is expected to be an all wheel drive car. There is no word on the powertrain or performance figures but expect it to come with the same engine options: a 3.8-liter V6 and 5.0-liter V8 but they are expected to get a number of upgrades.
The V6 and V8 engines are expected to come aligned with eight speed automatic transmission from the start. However, rumors have it that Japanese automaker is to make a 10 speed unit available at the later models. Just giving a close look at the vehicle, Hyundai HCD-14 seems to use a sportback style – something that we already have seen in Audi A7. Stay tuned for more updates on the same.