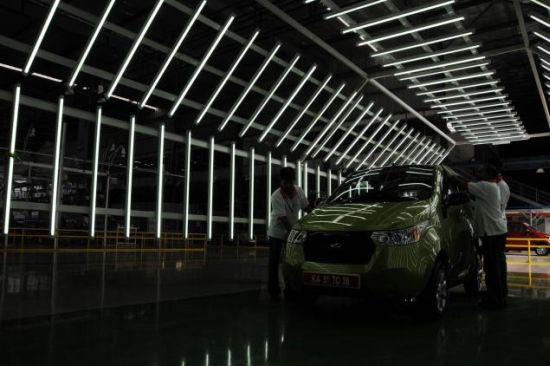 It's not that we hear about electric cars from India too often and there are a few advances that South Asian country can actually boast in the field. But the things are changing gradually and soon we will have another electric car from Mahindra Reva Electric Vehicles Pvt. Ltd in the form of Mahindra e2o.
After extensive testing and validation, Mahindra e2o has been certified roadworthy car in India. The vehicle is slated to be launched soon but there is no confirmation about its launch date. All we know is it will be developed in Mahindra's recently opened plant in Bangalore which is the first platinum plant in India with a capacity to build 30,000 cars per annum.
What Mahindra calls as the game changing development within the personal mobility space, Mahindra e2o is to usher in a new era and sure to change the way we travel in India. In order to propel e2o electric car, Mahindra will use next generation Lithium ion batteries that will enable the vehicle to cover 100km on a single charge. No power figures have been made available as of now apart from the vehicle will also use futuristic ecosystem of 'Sun2Car' to harvest solar energy to charge the vehicle to help protect as well as save the environment. The vehicle can be charged from any 15 ampere plug point.